Hello and thanks for listening! You can buy a signed copy of my CD, "Choose the Sky" directly from me by sending an email with your request to: blueoconnell@gmail.com
or purchase online from CD Baby.com

Here are some music samples of my songs. My CD "Choose the Sky" was released in 2011 and features Peter Markush on cello and Mary Gordon Hall on harmony vocals.
Here are a few selections from Choose the Sky:
Choose the Sky
For the Lily Grows
(solo guitar)
How Will I Know?
Let the Music Come
Owl's Dream
(solo guitar)
Innermission No 50
( me on Native American flute and
Jeff Romano
on guitar)

Other Songs:
Promise of Spring
- featuring
Diane Cluck
on piano (duet w/ guitar and piano)
Winter's Friend
Visit my SoundCloud page to hear all kinds of music I play. I have samples from my jazz improvisation class, wedding samples and other recordings. I also have several samples of wedding music on this page.


Local residents can purchase my CD at:
"Among the most profoundly moving CD's of modern singer-songwriters that I've ever experienced." --El McMeen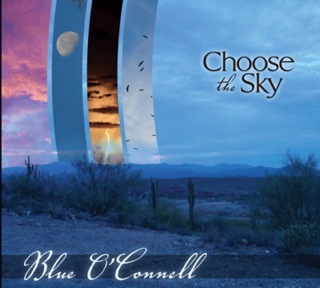 CD cover design by Browning Porter Design.